This meme is hosted over at That Artsy Reader Girl
---
Reading slumps. A bookworm's worst nightmare. (Along with dog eared pages, waiting for sequels, and that dreaded TBR pile mountain.) A sure fire way to cure a reading slump? Pick up a great book! Here's my top ten absolute favourites that never fail to bring back the reading spark!
The Book Thief by Markus Zusak
HERE IS A SMALL FACT:
YOU ARE GOING TO DIE.
1939. Nazi Germany. The country is holding its breath. Death has never been busier.
Liesel, a nine-year-old girl, is living with her foster family on Himmel Street. Her parents have been taken away to a concentration camp. Liesel steals books. This is her story and the story of the inhabitants of her street when the bombs begin to fall.
SOME MORE IMPORTANT INFORMATION:
THIS NOVEL IS NARRATED BY DEATH.
It's a small story, about:
a girl
an accordionist
some fanatical Germans
a Jewish fist fighter
and quite a lot of thievery.
ANOTHER THING YOU SHOULD KNOW:
DEATH WILL VISIT THE BOOK THIEF THREE TIMES.
Harry Potter and the Prisoner of Azkabhan by J.K. Rowling
When the Knight Bus crashes through the darkness and screeches to a halt in front of him, it's the start of another far from ordinary year at Hogwarts for Harry Potter. Sirius Black, escaped mass-murderer and follower of Lord Voldemort, is on the run – and they say he is coming after Harry. In his first ever Divination class, Professor Trelawney sees an omen of death in Harry's tea leaves… But perhaps most terrifying of all are the Dementors patrolling the school grounds, with their soul-sucking kiss…
Gone Girl by Gillian Flynn
On a warm summer morning in North Carthage, Missouri, it is Nick and Amy Dunne's fifth wedding anniversary. Presents are being wrapped and reservations are being made when Nick's clever and beautiful wife disappears. Husband-of-the-Year Nick isn't doing himself any favors with cringe-worthy daydreams about the slope and shape of his wife's head, but passages from Amy's diary reveal the alpha-girl perfectionist could have put anyone dangerously on edge. Under mounting pressure from the police and the media—as well as Amy's fiercely doting parents—the town golden boy parades an endless series of lies, deceits, and inappropriate behavior. Nick is oddly evasive, and he's definitely bitter—but is he really a killer?
The Princess Bride by William Goldman 
Beautiful, flaxen-haired Buttercup has fallen for Westley, the farm boy, and when he departs to make his fortune, she vows never to love another. When she hears that his ship has been captured by the Dread Pirate Roberts – who never leaves survivors – her heart is broken. But her charms draw the attention of the relentless Prince Humberdinck who wants a wife and will go to any lengths to have Buttercup. So starts a fairy tale like no other, of fencing, fighting, torture, poison, true love, hate, revenge, giants, hunters, bad men, good men, beautifulest ladies, snakes, spiders, beasts, chases, escapes, lies, truths, passions and miracles.
One of Us is Lying by Karen M. McManus
Pay close attention and you might solve this.
On Monday afternoon, five students at Bayview High walk into detention.
Bronwyn, the brain, is Yale-bound and never breaks a rule.
Addy, the beauty, is the picture-perfect homecoming princess.
Nate, the criminal, is already on probation for dealing.
Cooper, the athlete, is the all-star baseball pitcher.
And Simon, the outcast, is the creator of Bayview High's notorious gossip app.
Only, Simon never makes it out of that classroom. Before the end of detention, Simon's dead. And according to investigators, his death wasn't an accident. On Monday, he died. But on Tuesday, he'd planned to post juicy reveals about all four of his high-profile classmates, which makes all four of them suspects in his murder. Or are they the perfect patsies for a killer who's still on the loose?
Everyone has secrets, right? What really matters is how far you would go to protect them.
Spellslinger by Sebastien de Castell
There are three things that earn you a man's name among the Jan'Tep. The first is to demonstrate the strength to defend your family. The second is to prove you can perform the high magic that defines our people. The third is simply to reach the age of sixteen. I was a few weeks shy of my birthday when I learned that I wouldn't be doing any of those things.
Magic is a con game.
Kellen is moments away from facing his first mage's duel and the start of four trials that will make him a spellcaster. There's just one problem: his magic is gone. As his sixteenth birthday approaches, Kellen falls back on his cunning in a bid to avoid total disgrace. But when a daring stranger arrives in town, she challenges Kellen to take a different path. Ferius Parfax is one of the mysterious Argosi – a traveller who lives by her wits and the three decks of cards she carries. She's difficult and unpredictable, but she may be Kellen's only hope…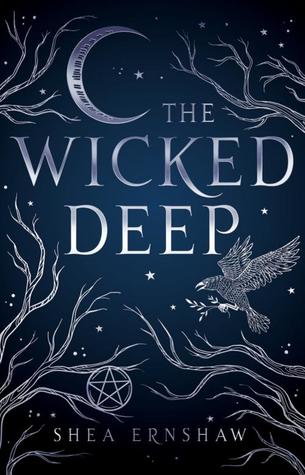 The Wicked Deep by Shea Earshaw
Welcome to the cursed town of Sparrow…
Where, two centuries ago, three sisters were sentenced to death for witchery. Stones were tied to their ankles and they were drowned in the deep waters surrounding the town.
Now, for a brief time each summer, the sisters return, stealing the bodies of three weak-hearted girls so that they may seek their revenge, luring boys into the harbor and pulling them under.
Like many locals, seventeen-year-old Penny Talbot has accepted the fate of the town. But this year, on the eve of the sisters' return, a boy named Bo Carter arrives; unaware of the danger he has just stumbled into.
Mistrust and lies spread quickly through the salty, rain-soaked streets. The townspeople turn against one another. Penny and Bo suspect each other of hiding secrets. And death comes swiftly to those who cannot resist the call of the sisters.
But only Penny sees what others cannot. And she will be forced to choose: save Bo, or save herself.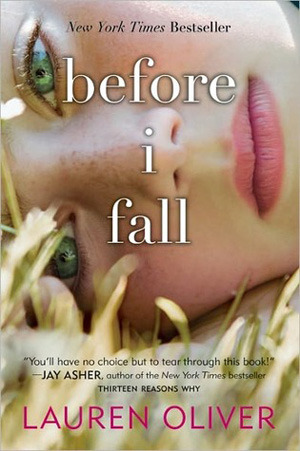 Before I Fall by Lauren Oliver
For popular high school senior Samantha Kingston, February 12—"Cupid Day"—should be one big party, a day of valentines and roses and the privileges that come with being at the top of the social pyramid. And it is…until she dies in a terrible accident that night.
However, she still wakes up the next morning. In fact, Sam lives the last day of her life seven times, until she realizes that by making even the slightest changes, she may hold more power than she ever imagined.
Chocolat by Joanne Harris
When the exotic stranger Vianne Rocher arrives in the old French village of Lansquenet and opens a chocolate boutique called "La Celeste Praline" directly across the square from the church, Father Reynaud identifies her as a serious danger to his flock. It is the beginning of Lent: the traditional season of self-denial. The priest says she'll be out of business by Easter.
To make matters worse, Vianne does not go to church and has a penchant for superstition. Like her mother, she can read Tarot cards. But she begins to win over customers with her smiles, her intuition for everyone's favourites, and her delightful confections. Her shop provides a place, too, for secrets to be whispered, grievances aired. She begins to shake up the rigid morality of the community. Vianne's plans for an Easter Chocolate Festival divide the whole community. Can the solemnity of the Church compare with the pagan passion of a chocolate éclair?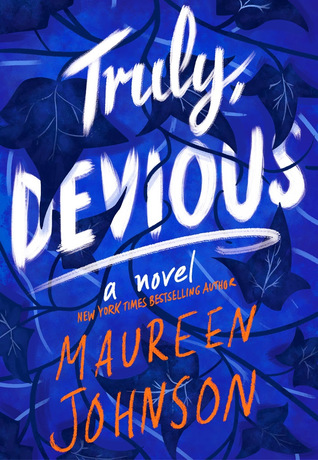 Truly, Devious by Maureen Johnson
Ellingham Academy is a famous private school in Vermont for the brightest thinkers, inventors, and artists. It was founded by Albert Ellingham, an early twentieth century tycoon, who wanted to make a wonderful place full of riddles, twisting pathways, and gardens. "A place" he said, "where learning is a game."
Shortly after the school opened, his wife and daughter were kidnapped. The only real clue was a mocking riddle listing methods of murder, signed with the frightening pseudonym, Truly Devious. It became one of the great unsolved crimes of American history.
True-crime aficionado Stevie Bell is set to begin her first year at Ellingham Academy, and she has an ambitious plan: She will solve this cold case. That is, she will solve the case when she gets a grip on her demanding new school life and her housemates: the inventor, the novelist, the actor, the artist, and the jokester. But something strange is happening. Truly Devious makes a surprise return, and death revisits Ellingham Academy. The past has crawled out of its grave. Someone has gotten away with murder.
Happy Reading!